Don't let Finance in Common get away with it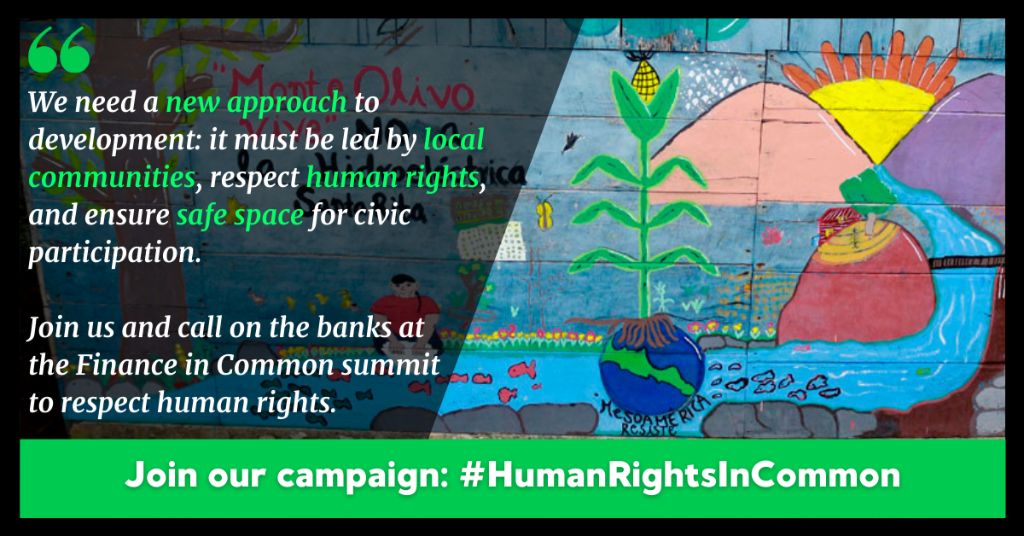 Dear All,
Local communities, their rights and human rights defenders are not on the agenda of Finance in Common. Let's make sure they hear that we won't stand for it and let's all together Occupy #FinanceInCommon2020 !
Join our twitterstorm on 9, 11 and 12 November!
Let's together call on the banks attending the Summit to start prioritizing human rights, to listen to human rights defenders and civil society, and to let local communities decide on their own future. We'll be using the official Summit hashtag (#FinanceInCommon2020) to occupy their virtual space with the voices of those excluded by the Summit.
You can find the social media package (with suggested tweets, graphics, and accounts to tag) in  English, French, Arabic and Spanish.
https://docs.google.com/document/d/1Yo-aCmgO7wQU-xxQ0YWu__8KvXWz79ll1INMy5p2Wwo/
All graphics can be downloaded here and please get in touch if you'd like a personalized twitter card with a quote from your organization or to get it translated in any other language. The package is still work in progress, so any feedback, comments and additional resources that can be tweeted are more than welcome.
We really hope you'll join the campaign, to help make our collective voice loud and strong!